Our Philosophy

The Kashiyama Industries Group believes that conservation of the global environment and constant improvement of it is one the most essential objective for mankind as well as our business activities. Based on this creed, we are determined to expand our business activities along the line with contribution toward harmonization of mankind and society with global environment.
Our Principle
We are conscious that our business activities through "Kashiyama Industries Group" affect the environment. As principle of our organized business activities for environmental conservation, we continually strive to scrutinize our activities in light with items as below to minimize the environmental impact

Promote development of products essential for energy and resource conservation.
Promote electronization of documents and higher efficiency in business flows
Establish recycling systems and reduction of waste.
Promote energy and resource conservation.
Priority purchasing and procuring resources to "green product".

Promote continual organized activities to improve environment, aiming prevention of environmental pollution and improvement in environmental conservation management.
Make clear understanding of environmental regulation or ordinance set by government, local communities, industrial associations and other organizations concerned, and actively support it and participate in the environmental conservation activities.
To achieve our environmental policy, we set up our objective and target for our environmental conservation activities. We will review and revise them from time to time in light with evaluation report on environmental impact by internal auditor, etc.
We file this environmental policy of ours in document and promote education and publicity works to raise awareness of employees about the environmental conservation as well as open it to the public in the Internet web site of ours.
Oct. 1, 2003
Kashiyama Industries, Ltd.
Director Adm. Dept.
Kazuyuki Tanaka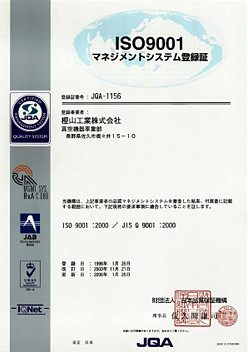 ISO 14001 registered certificate