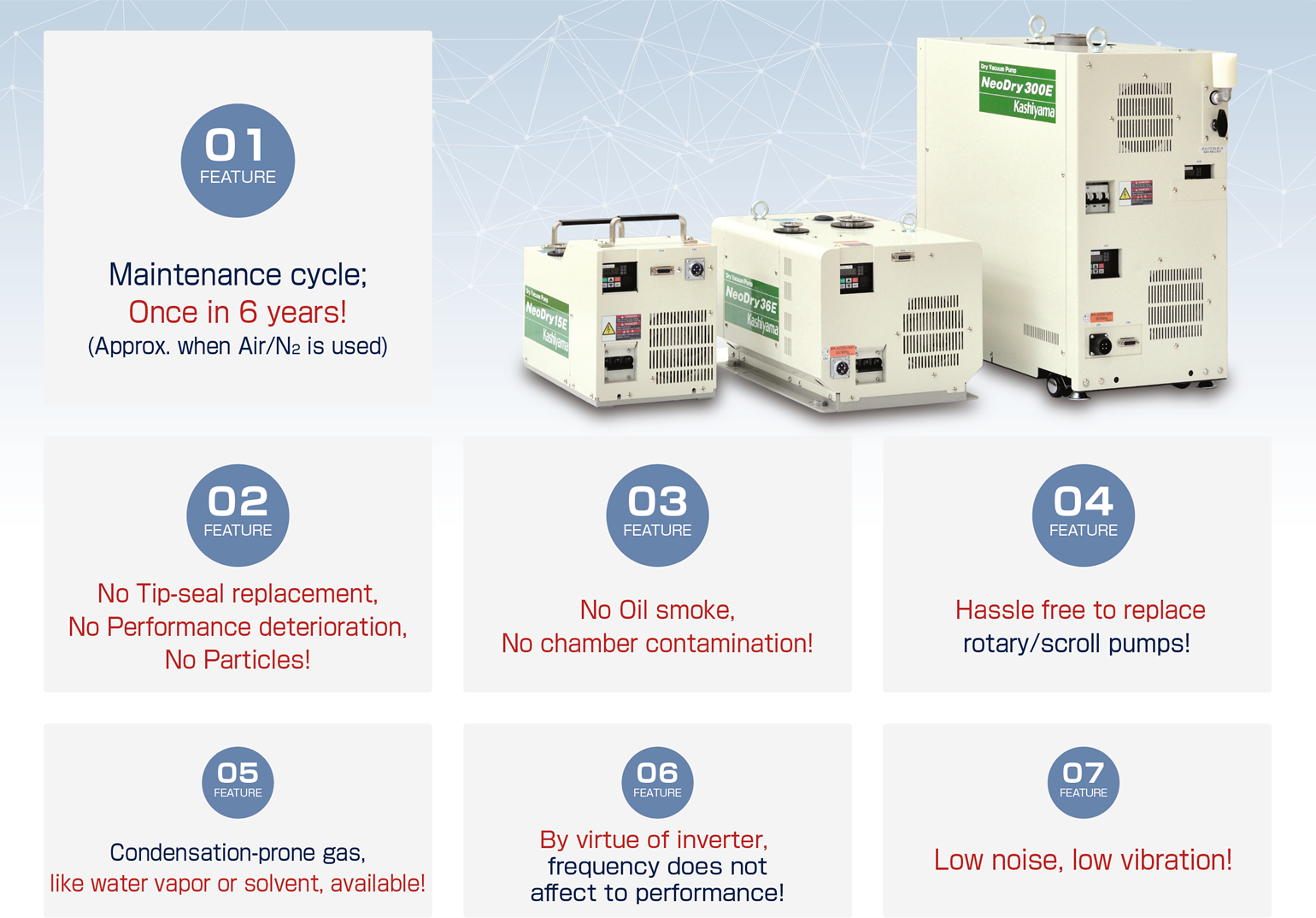 Mechanism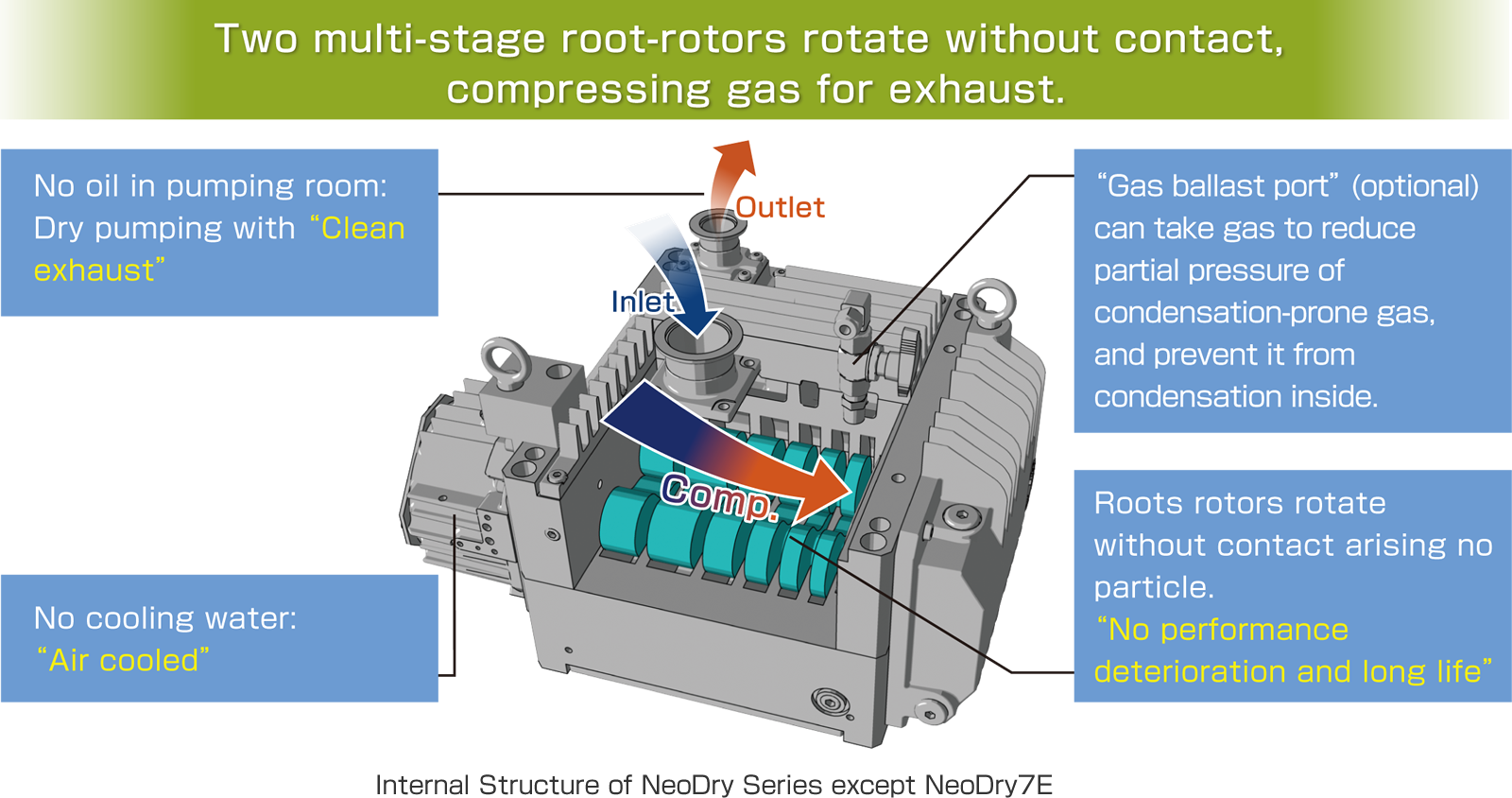 Major Products
Spec. / Products
NeoDry7E
NeoDry15E
NeoDry30E
NeoDry36E
NeoDry60E
NeoDry100E
NeoDry300E
Max. pumping speed
[L/min]
110
250
500
600
1,000
1,670
5,000
Ultimate pressure [Pa]
(Without gas ballast)
5.0
1.0
2.0
0.3
Supply voltage
(50/60Hz)

*1

Single Phase, AC100~120V
Single Phase, AC200~240V
Single Phase, AC100~120V
Single Phase, AC200~240V
3Phase, AC200~240V
Single Phase, AC200~240V
3Phase, AC200~240V
Gas ballast mechanism
Optional (N2 available)
Standard accessory
Max allowable moisture[g/h]
(With gas ballast)
120
250
350
600
Noise [dB(A)]
(Inlet closed)
≦56
≦58
≦60
≦55
≦72
Vibration [μmp-p]
(Inlet closed)
≦8
≦15
Mass [kg]
19
23
25
54
56
90
125
Inlet size
NW25
NW40
NW50
Outlet size
NW25
Dimensions [mm]
L×W×H

*2

360×196×219
385×210×250
410×210×250
475×298×275
530×315×275
576×320×342
574×304×575
*1) Contact us for other voltage options. *2) Package size.
* Contact us about international standard compliance. Spec. & name of products are subject to change without prior notice.
S-P Curve
* S-P curves vary by combination.
Market
Vacuum Drying
Electrode Drying
Vacuum Degasing
Vacuum Molding
Vacuum Packing
Vacuum Filling
Suction Conveyance
Vapor Deposition
Gas Displacement
Electron Microscope
Accelerator
Mass Spectrograph
Centrifuge
Freeze Dryer
Evaporator
Backing pump for Turbo
Vapor Pumping
Solvent Pumping
He Pumping
Plasma Cleaning etc.
Our Customers
Hokkaido Univ.
Tohoku Univ.
Gunma Univ.
Tsukuba Univ.
Tokyo Univ.
Shinshu Univ.
Nagoya Univ.
Kyoto Univ.
Osaka Univ.
Okayama Univ.
Hiroshima Univ.
Kyushu Univ.
J-PARC
SACLA
SPring-8
Japan Atomic Energy Agency
National Institute of Radiological Sciences
National Institute of Advanced Industrial Science and Technology
Institute for Molecular Science
National Institute for Materials Science
Nara Institute of Science and Technology
High Energy Accelerator Research Organization etc.
Pumps for solvent/H2 evacuation also lined-up.
Contact us about combination with Turbo or Mechanical booster.
Because we are constantly working to improve performance and upgrade our products, specifications and diagrammatic representations in this catalog may change without notice.
Products displayed in this catalog must be approved for export in accordance with the Foreign Exchange and Foreign Trade Control Act. Before placing an export order, please contact our Business Department.